Revlon Top Speed "Pink Lingerie" #110 #Nails #NailPolish
I decided to show another "Lost File" picture (Revlon Top Speed "Pink Lingerie").
This is one of my all-time favorite colors. I applied some KISS nail stickers and went on my merry way! Like most of my favorite colors, this bottle is on its last leg **sigh** for some reason, I feel as if I have no nail polish. I have pretty much less than twenty bottles and I usually stick with the same ole colors. (I'm going to do better) Hopefully I will start to play around with more with colors and designs. Don't get me wrong, I love the classic manicure look (that's what I call it). However, it's time to play around more with the colors I have (until I purchase some more nail polishs.)
Anywho, I will be participating in
Just another MANICure Monday
hosted by
LA Lynns Shoppe
and
Lip Gloss and Binky
. Stop by and join me!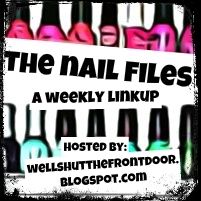 Thank You For Stopping By!